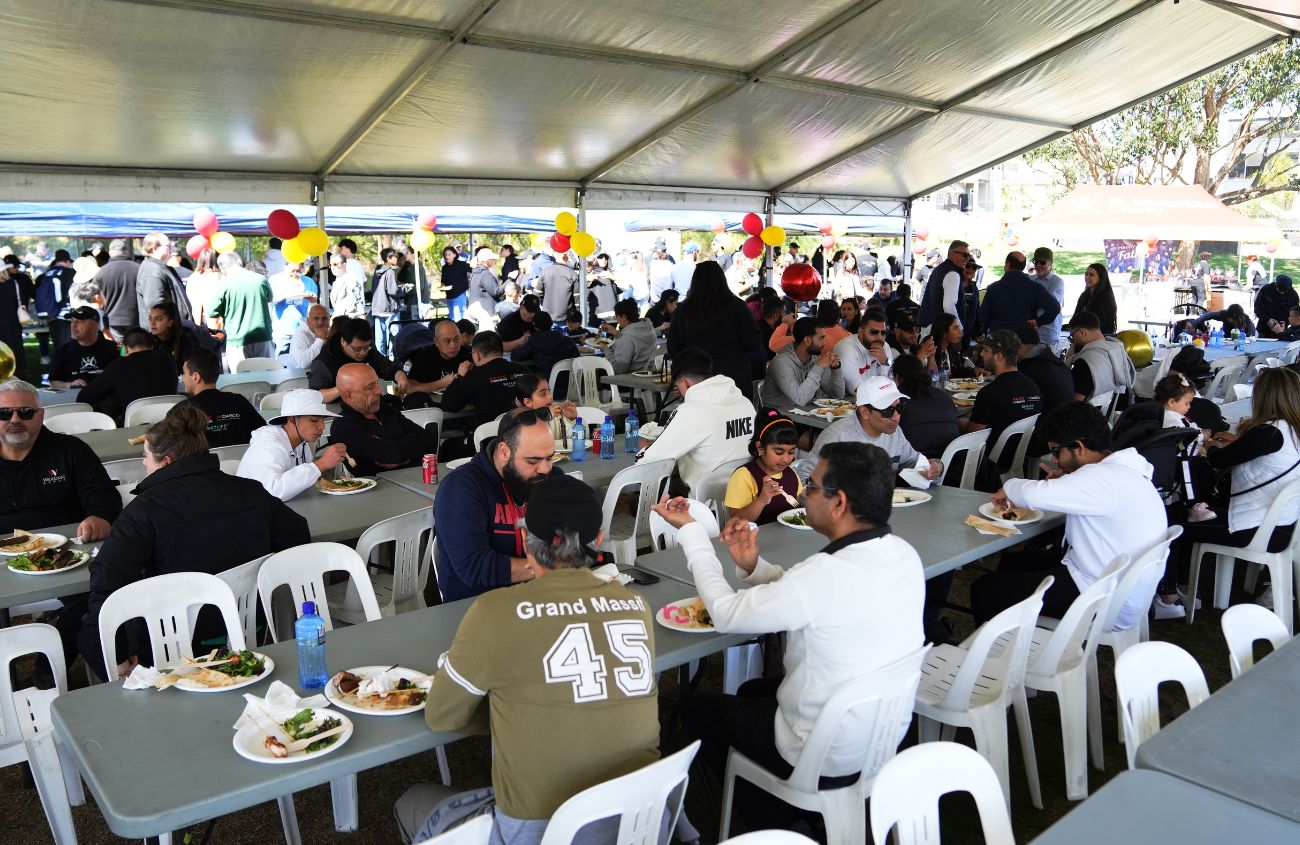 2023 Day at the Bay
St. Merkorious Charity's 2023 Day at the Bay: A Day of Fun and Giving Back
On Saturday, September 2, 2023, Leichardt Oval in Lilyfield came alive with the spirit of generosity and community as St. Merkorious Charity hosted their annual charity event, "Day at the Bay." This heartwarming event was a remarkable success, bringing together people of all ages and backgrounds to enjoy a day filled with entertainment, delicious food, exciting activities, and, most importantly, the opportunity to make a positive impact in the lives of others.
Entertainment Extravaganza with MC Fred Frangi
The 2023 Day at the Bay kicked off with the ever-energetic and entertaining MC, Fred Frangi, who kept the crowd engaged throughout the day. His charisma and enthusiasm set the perfect tone for a day of fun and giving back.
Kid's Activities Galore
Children and families revelled in a plethora of activities. Kids could challenge themselves on the rock-climbing wall or transform into their favourite characters with delightful face painting. It was heartwarming to see the smiles on their faces as they enjoyed these activities.
Delicious Breakfast and More
The 2023 Day at the Bay morning began with a mouthwatering breakfast featuring a sausage sizzle, generously provided by SMEG Australia and Manoosh. Attendees were treated to a delightful culinary experience that set the stage for a day filled with delicious food and to keep the energy levels high, Schibello Coffee was on hand, providing a much-needed caffeine boost to attendees, ensuring they could fully enjoy the day's festivities.
Culinary Delights: BBQ Lunch and Paella
As the day unfolded, guests were treated to a delectable BBQ lunch and mouthwatering paella. These culinary delights satisfied even the most discerning palates, leaving everyone asking for seconds.
Raffle and Prizes
Raffles added an extra layer of excitement to the event. Lucky winners walked away with a treasure trove of prizes, ranging from restaurant vouchers from Andiamo restaurant to luxurious beauty services from Sensuous Hair & Beauty Studio. Gift packs from La La Land, a stylish Seiko watch from Nader Jewellers, and a stunning pearl set from Zed N Zed Jewellers were among the coveted prizes.
Auction Items from Generous Donors
SMC also organized an auction with items generously donated by various businesses and organizations. Auction items included packages from Tadros Travel, Forty Winks, West Tigers, and Bulldogs. These contributions added an extra layer of excitement to the event, and winning bidders left with prized possessions, all while supporting a noble cause.
Heartfelt Thanks to Sponsors
This incredible day would not have been possible without the generous support of sponsors. St. Merkorious Charity extends its deepest gratitude to all sponsors who contributed to the success of 2023 Day at the Bay. Special recognition goes to the major sponsors: DASCO Australia, Payce Foundation, and Skylife Foundation, for their unwavering commitment to making a difference in the community.
Acknowledging Community Leaders
We extend our heartfelt appreciation to Sally Sitou MP for Reid, Mayor John Faker of Burwood, and Mayor Karen Pensabene of Strathfield for their unwavering support, commitment, and generosity towards St. Merkorious Charity's mission. Their dedication to our cause is truly inspiring.
Special Guests Who Brightened Our Day
A heartfelt shout-out goes to Brutus and the cheerleaders from the Bulldogs and Adam Doueihi from the West Tigers for adding to the event's excitement and vibrancy. Their presence was deeply appreciated by everyone in attendance.
Gratitude to Sponsors of Essentials
We also want to thank Replenish Vending Machines for sponsoring the bottled water and DTS for handling all our printing needs. Your contributions ensured that every detail was taken care of, making our event run seamlessly.
2023 Day at the Bay was not just a day of entertainment and enjoyment; it was a testament to the power of community coming together to support those in need. SMC and all those involved can take pride in knowing that their efforts will make a meaningful difference in the lives of countless individuals. Here's to many more successful charity events in the future, where fun and giving go hand in hand!